Plot
First, the story. It's 1936, and Catherine is languishing in a mental asylum on the tab of her Aunt Violet, a well-to-do widow. Violet invites Dr. Cukrowicz over to discuss the prospects of lobotomizing Catherine, who was last with her cousin and Violet's poet son, Sebastian, and has been loose-lipped about Sebastian's insatiable appetite for men and his murder at the hands (and mouths) of cannibals. Violet wants to silence her—and save her son's reputation from any further damage—and is willing to compensate the doctor handsomely for the operation. Cue Catherine's reemergence from the asylum—and Williams' trademark Southern Gothic drama.
Approach: Clearly, this play is a little bonkers, which, along with William's poetic prose, would make it ripe for an absurdist interpretation. But local production company Speeding Theatre, which is putting on the play for Super Summer Theatre's off-season series, is playing it straight for the sake of restraint and reality, director Michael Sullivan says. "It's a play that can go too far, but we wanted to keep some realism. The themes are relevant today."
Inhumanity
The one-act play is chock full of people using others in extreme ways; it's the major theme of the play, Sullivan says, "how we eat away at each other, and [how] it becomes a survival of the fittest." This manifests itself chiefly in Sebastian's violent death—alluded to early on by Violet as she describes having seen birds eating just-hatched sea turtles during a vacation with her son at the Galápagos Islands—how he used Catharine and other men to quell his sexual appetite and in the shocking way Violet seeks to control her niece. "We are still being inhumane to people," Sullivan says.
Financial inequality: A core theme in both today's headlines and Williams plays, especially Suddenly, which takes place in Violet's mansion (in New Orleans' Garden District, a high-society juxtaposition to the seedier French Quarter), where "the aunt of substantial wealth and privilege can talk the medical institution and the church into having the girl be lobotomized … all which couldn't happen had the aunt not had the wealth and privilege," Sullivan says.
Repression
Without it, there's no play. It's evident in Catherine's incarceration, Violet's plans to keep Catherine from revealing too much about Sebastian and the Southern conservatism that forces Sebastian to act (and then overindulge) on his gay sexual urges. And sadly, it still surfaces today. "There's people who still want to see the repeal of same-sex marriage; I do still think that's relevant," Sullivan says. "And there's definitely repression of [Catherine]. It tells how easily women are institutionalized and marginalized in the 1930s, which can still happen in 2018."
Suddenly Last Summer March 2-4 & 9-11; Friday & Saturday, 7 p.m., Saturday & Sunday, 2 p.m.; $14-$15. ViewPoint Center, 4340 S. Valley View Blvd. #210, supersummertheatre.org.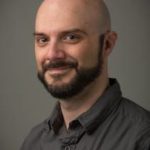 Mike Prevatt
Mike Prevatt turned his passion for rock 'n' roll and dance beats into an actual job during his stint as music editor of the Daily Bruin while attending UCLA, and then as arts and entertainment editor at Las Vegas CityLife, where he worked for 11 years before becoming nightlife editor of Las Vegas Weekly. Mike has won five Nevada Press Association awards and has been published in outlets like SPIN, New Music Express, URB and Desert Companion. He will outlast any househead on the dancefloor, bring up team sports at a gay bar and fulfill his goal of riding every roller coaster in America.