SUPER SUMMER THEATRE Location
SUPER SUMMER THEATRE is located at Spring Mountain Ranch. This State Park is exactly 10 miles west of the 215/West Charleston intersection.  All performances are outdoors and run Wednesday – Saturday (excluding September's  production which runs Thursday – Saturday).
All performances begin at 8:05 PM except for September's show which begins at 7:05 PM.
Parking opens at 5:00 PM and seating for the meadow opens at 6:00 PM for ALL performances.
We do have a paved parking area set aside for our Handicapped guests at each performance. When you arrive at the general parking lot, with proper identification, the parking attendant will direct you to the designated area.
ASL will be provided on the first Friday of each show IF someone has called the office (702-579-7529) at least a week in advance to make a request.
Yes, we have room for buses.
You may bring a blanket or chair. We also offer chair rentals for $1.00.
YES, we have food vendors
We recommend visiting our concession stand but bringing in outside food and drink is fine. -Alcoholic beverages are allowed..
Children 5 and under are free.
Credit Cards accepted for the concession stand, Flex Pass purchases, and merchandise at the chair shed.
Super Summer Theatre does not offer advisories about subject matter, as sensitivities vary from person to person. If you have any questions about content, age-appropriateness or stage effects (such as strobe lights or theatrical fog) that might have a bearing on patron comfort, please contact our office at 702-579-7529.
Beginning in 2021, a Nevada State Parks Entrance Fee is required to gain access to and Spring Mountain Ranch State Park (SMRSP) venue that SUPER SUMMER THEATRE (SST) calls home for all events.  The fee is required by Nevada law. All entrance fee revenue is retained by Nevada State Parks to manage, protect, operate, and maintain existing parks.

Entrance Fees are as follows: $10/per vehicle/per day, in-state license plate; $15/per vehicle/per day, out-of-state license plate, and $2./per person for buses or shuttles.  Please note that this fee is an Entrance Fee and applies to ridesharing services (Uber, Lyft, etc.) and drop-offs within the park.
We ask that you please do NOT bring the following:
No Pets allowed including emotional support animals
Legal and Illegal Drugs and Narcotics
We divide the meadow into two sections, the chair section is for normal camp style chairs.Only regular size chairs, NOT high back or elevated chairs, are allowed in the chair section.
The Meadow or Blanket side are for blankets, pillows and lower backed chairs under 18 inches.
Please do not bring Lounge/banana chairs (The blanket section can have backrests, like stadium seats, but not beach chairs. Your bottom has to be on the ground.  Low sand chairs are not allowed.
These rules will be enforced for the viewing pleasure of ALL our patrons. Thank you and enjoy your time at the park.)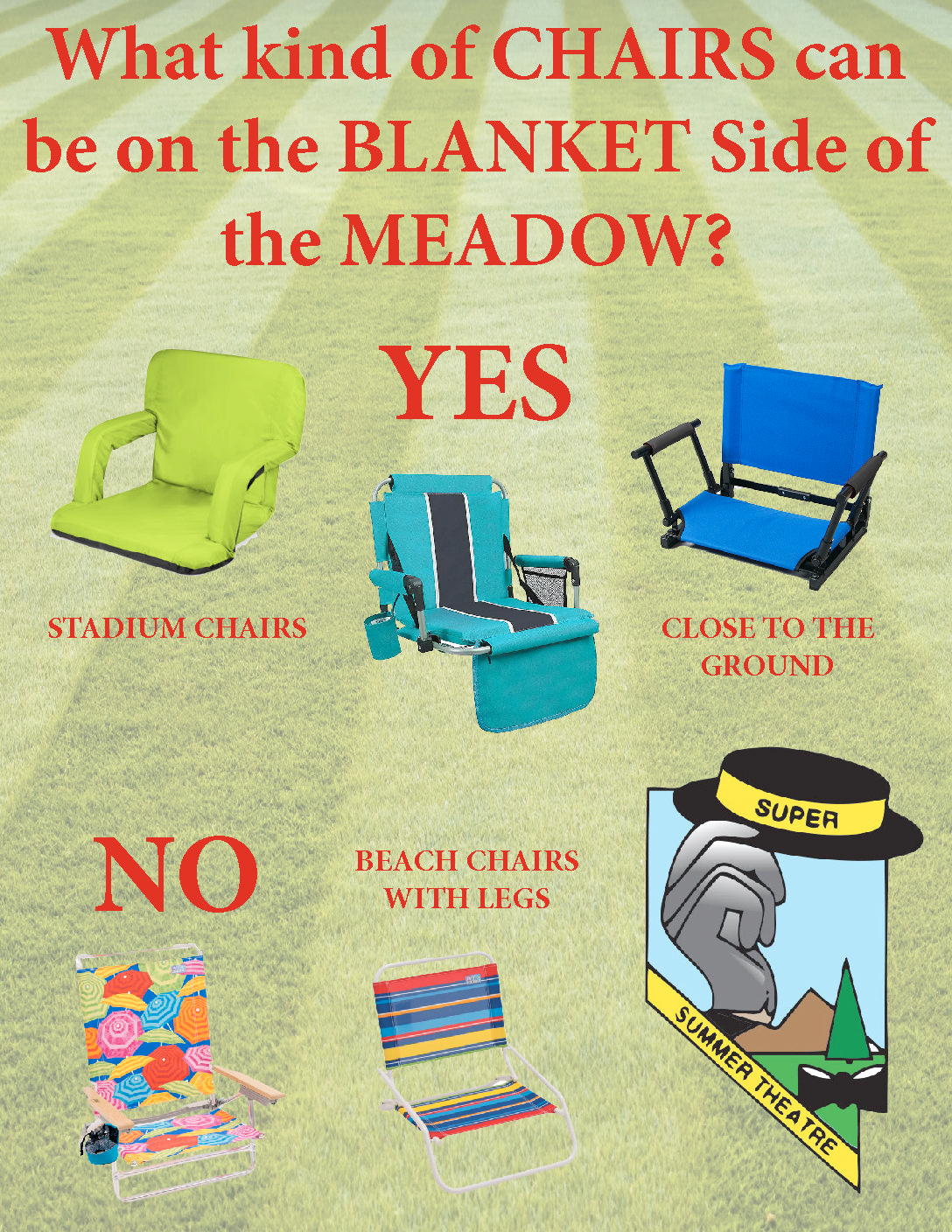 "The mission of SUPER SUMMER THEATRE is to promote the use of Nevada State Parks by providing quality, family-oriented, and reasonably priced outdoor cultural entertainment to the community including theatrical arts educational opportunities."