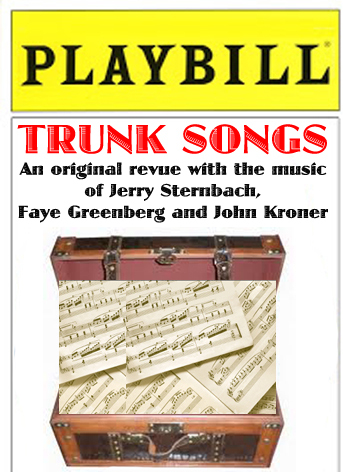 The critically acclaimed original revue that was originally performed in Los Angeles & New York, made its Las Vegas premiere at the Onyx Theatre in 2013, and is now coming to our venue!
The production, directed by Jay Joseph & Musical Direction by Karalyn Clark; is filled with songs that were cut from shows during try-outs & previews from original shows or Cabaret productions. The songs are written by 3 critically acclaimed composers; Gerald (Jerry) Sternbach, Faye Greenberg & John Kroner.
Produced by A Touch of Mystery & More Entertainment Group, Trunk Songs stars some of Las Vegas' finest talent: Kellie Wright, Gret Menzies, Ben Lowey, Karalyn Clark & Jay Joseph.
You don't want to miss this performance of Trunk Songs.
Buy Ticket Now
Thurs Jan 10th 7pm
Fri Jan 11th 7pm
Sat Jan 12th 7pm
Sun Jan 13th 2pm
Thurs Jan 17th 7pm
Fri Jan 18th 7pm
Sat Jan 19th 7pm
Sun Jan 20th 2pm
A Touch of Mystery & More Entertainment Group